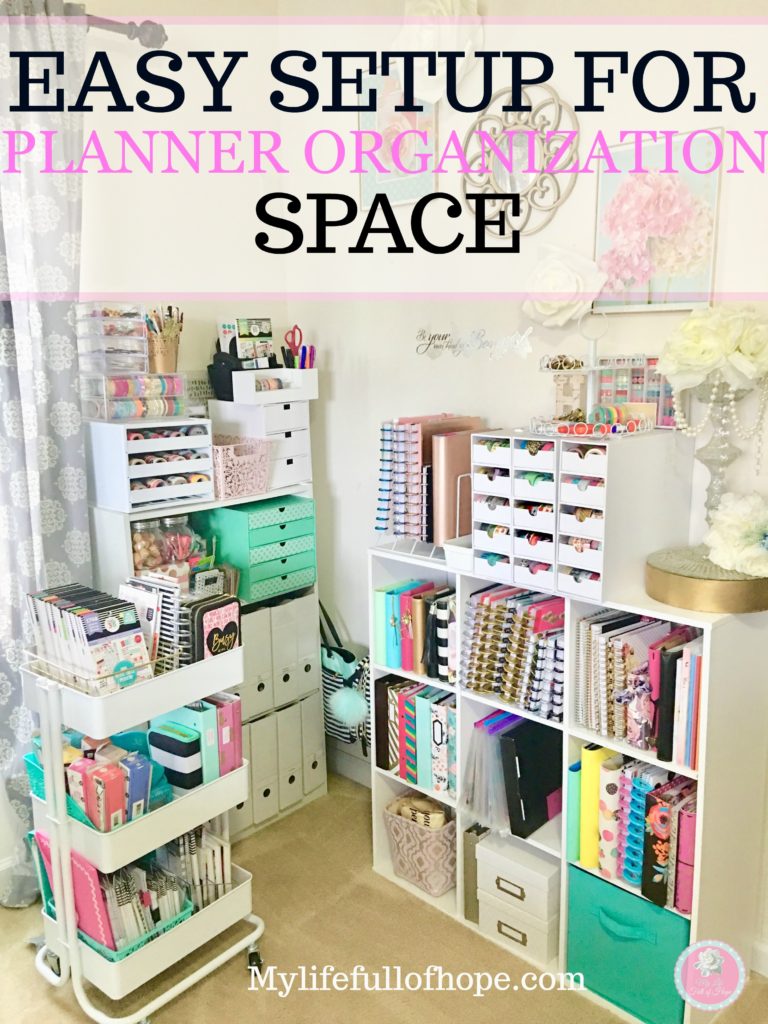 Easy Setup For Planner Organization Space
Recently I shared on my channel my planner corner and I am really enjoying how organized and functional it is for me now. You can set up your very own planner space of your very own in no time. 
I would like to share some easy and functional organization for your planners and planner supplies that will not break the bank and make your own customization of your very own in your space. Let's get started!
The two main storage units are from Target I purchased them to store my planners and supplies:
a white 3 shelf bookcase

white 9 cube organizer
I used the 9 cube organizer to mainly place all my planners in. I like to categorize them by type and size in one cube for example. All of my Happy Planners would go in one or two cubes depending on how many may fit.  Then I would place all my ring planners (A5 or A4 sizes) together. Next, I placed all of my mini-binders, travelers notebooks and regular mini notebooks in a grouping.
Putting like items together gives the shelves a really neat, organized and cohesive look. You can go even further and place them in order by color. Super easy to do and should not take a long time to complete this task. It almost feels like you are in the library sorting books on the shelves.
I know you wondering does she use all of these planners? The answer is Yes and No. I did at one time, so they are old planners I had over a few years or they may be undated planners so I will eventually use them (especially if I make a mistake in my current planner which I have before all I have to do is pull of set of brand new pages in an old one). Some are waiting to be used and others are just simply in the rotation. LOL!
In the center cube, I have some subscription box orders from MommyLhey and The Planner Society. Depending on your preference and space you may have to sort you planner goodies you may find it helpful to use an alternate storage or packaging to organize them with to store better. For The Planner Society monthly kits, I choose to take them out the boxes (they come in a neat and pretty box too) and place them in these clear zip envelopes from Dollar Tree. 
They were perfect because they were clear and I could see what is exactly inside, I could store more within the space and the price was fantastic ($1.00) each. Dollar Tree does not have them all the time so when I would catch them at the store I grabbed several to have on hand.
Moving to the bookcase, I adjusted the shelves so that everything would fit my liking. I needed someplace to store my stickers and I have a huge selection….well a collection of them. This system hides the fact that I have so many…well so a little bit. Also, my 3-year-old does not see them which makes it an added bonus!
To store the stickers in I decided to use a magazine holder by Ikea called Flynt that I purchased from Amazon to store them in by type and category.
Over time I noticed that I always had the same types of stickers, so I used that as a deciding factor on how to label by type and category.  
On the shelf above it I wish I would get another row of magazine holders but that probably a good thing so I will not buy anymore…well as many stickers. I have a teal drawer organizer that houses: ink pads, stamps, paper and binder clips.
In the center is a makeup organizer that just simply did not work in my drawers in my bathroom so I am using it to store sticky notes and page flags. Do not be afraid to think out the box and use items or organizers that are meant for another purpose to suit another need. Such as using a fridge, drawer, closet or makeup organizers for your craft space or vice versa.
I also used these glass jars that are normally used to store pantry items from the Dollar Tree to store my cork circle stamps and large DIY paper clips. (Look to see what is in the pink, white and gold box)
Above it, I have some of my washi collection in the white storage and above it clear acrylic drawers which are really makeup drawers to display how pretty the washi rolls are.
The powder pink metal bin was from Five Below and it stores my clear flat stamps. The white box is Recollections from Michaels and it houses wood stamps and acrylic blocks.
I recently came up with a new way to store my clear stamps and possibly wood stamps. I will share soon, crossing my fingers it works out.
On top of the 9 cube organizer, I house my planners that I currently am using a simple pot and pan organizer. I purchased mine from Walmart and it was not quite strong enough for my pot and pans. I saw a post on Instagram and immediately went digging for mine to store my larger planner (used for memory keeping). They are perfect for the large Happy Planners! I also heard that these can be found at the Dollar Tree but I never found them in all of my Dollar Tree hunting.
I think my favorite part of the entire corner is m washi organization. These slim white multi organizers are by Totally Tiffany I purchased mine from Joann's and Hobby Lobby. They hold so many rolls of washi tape!
On top of it, I just placed a cupcake stand that was purchased from the Target One spot. It just holds quick reach items that I do not have to go searching and digging for when planning. Such as binder/paper clips, white out tape, page flags, post-it notes and glue sticks.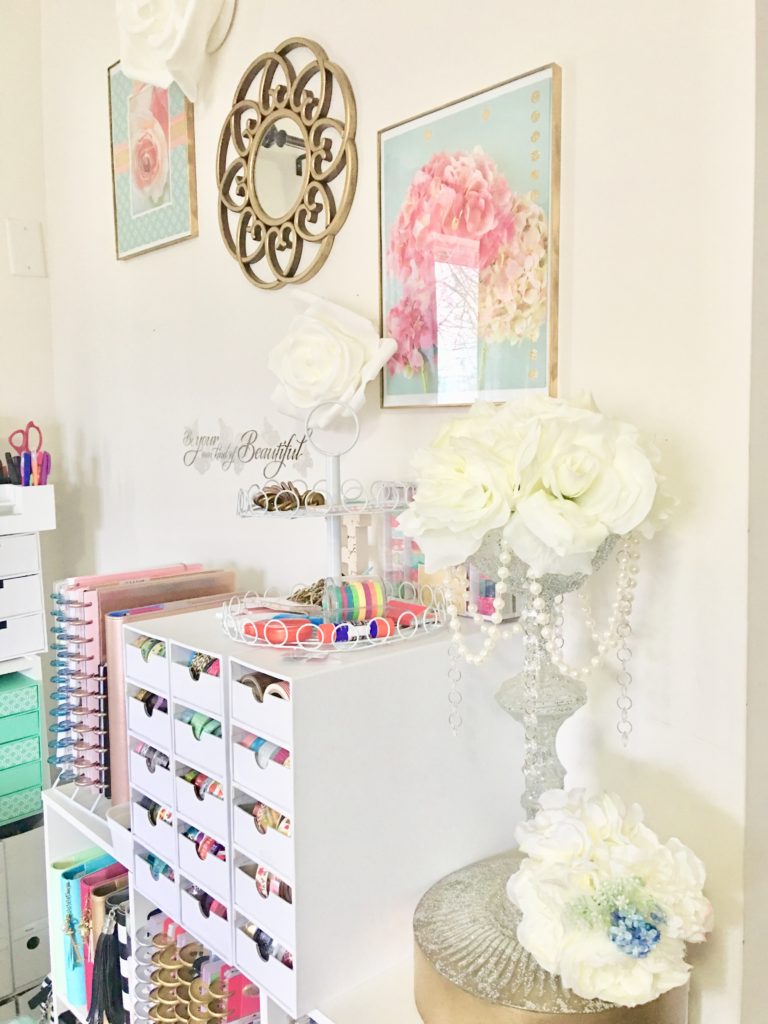 Lastly, I have the DIY that I created for my little cousin's bridal shower. Nestled at the bottom was my Matron of Honor bouquet, it sits so perfectly here. Adding personal touches of your own DIYs, home decor or memory pieces that you love makes your space/craft room come alive and feel homier.
In the end, make your planner space customizable for you. What works for you! One thing may work for one person may not work for another. Take your time setting your space up. Do not be afraid to start over or move things around. I find this difficult for me to do! Such an easy thing to do but do not be afraid! You may have a limited, no or an expanded budget just pace yourself. You may not find the storage that works for you all at one time but eventually, you will over time and that is okay. To my Planner Girls, Happy Planning, and Organizing!