Cookie Monster Birthday Party
One of my favorite birthday parties I had for my kiddos was Jesiah's very 1st birthday. He is now 4. At the time I did not know what theme to do for his party because he was still young and I was not sure of what he really liked.
So I just went off of little hints and clues of things he gravitated too. I thought a Cookie Monster birthday party would be great for him.  Watching him love eating his first Gerber cookie, I knew that his first party had to be Cookie Monster themed.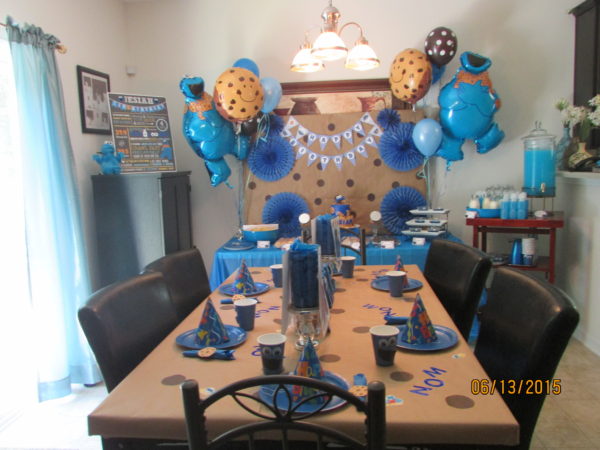 Where To Shop
To begin with, wanting to stay on a budget. Which meant going to Dollar Tree to find items that coordinated. And searching the internet for anything related to the Cookie Monster. 4 years ago it was a little challenging! It was a ton of Sesame Street party items but not a lot of just cookie monster.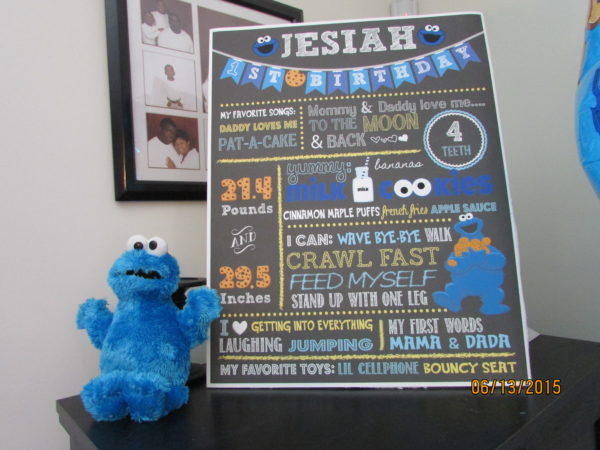 I was able to find items through Amazon which is my absolute go-to when having a party or event. Also a few items from Party City, the super cute balloons. Loved all of the customized party items purchased from Esty: His Birthday board, party banners, and food menu tent labels.
Inspiration
There were very little places to gather inspiration almost 5 years ago for his party (Click here to read about Party Overwhelm). I searched on YouTube and there may have been a couple. Nevertheless, Pinterest was my go-to and some on Google.
Some of the ideas I came upon my very own. Don't you just love when those creative juices just flow?
The cookie table covering and the backdrop was my favorite idea. It was simply brown kraft (packaging paper) from Dollar Tree and I created brown circles from my computer (in MS Word). Then print and cut them out to make chocolate chips.
Table Decorations
Shopping at the Dollar Tree was my go-to, especially with them having tableware that matched Cookie Monster himself. Perfect!
Dollar Tree also had googly eyes, stickers, hats, and blue sticker letters.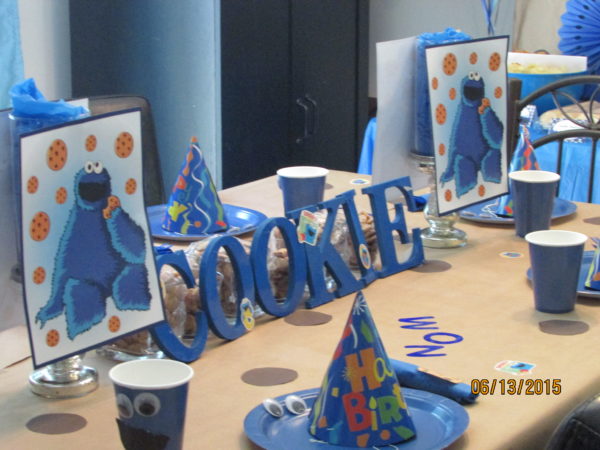 Down the center of the table added glass jars from the Dollar Tree and placed Cookie Crisp cereal in them. Leaning the wood letters that were spray painted from Walmart's craft section up against the jars.
The cookie monster images were just Googled images that I printed out and taped them to the glass candlestick holders.
OTHER POSTS THAT YOU WILL ENJOY!
FOOTBALL BIRTHDAY PARTY IDEAS WITH TACO BAR
Thomas the Train and Friends Birthday Party Ideas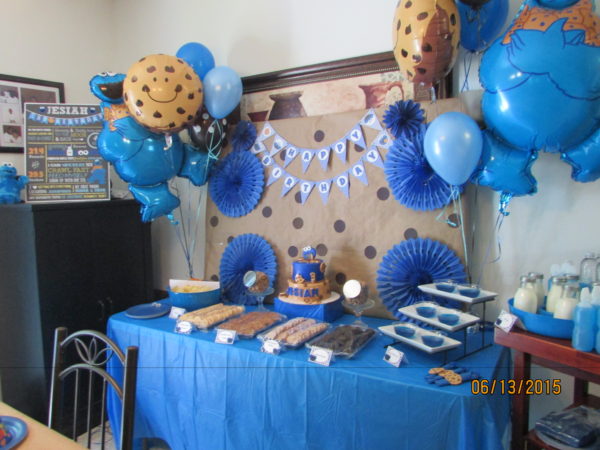 *This post contains some affiliate links (which means if you make a purchase using this link I may earn a small commission, with no cost to you.)
Cake Table
For the cake table,  I placed most of the desserts (different types of cookies) in clear platters from the Dollar Tree. Also adding some blue jello was great for a 1-year-old birthday party.
The blue pinwheels and balloon bouquet was purchased from Amazon. I really like that they have an option to blow them up for you at a local florist or grocer (usually for a small fee).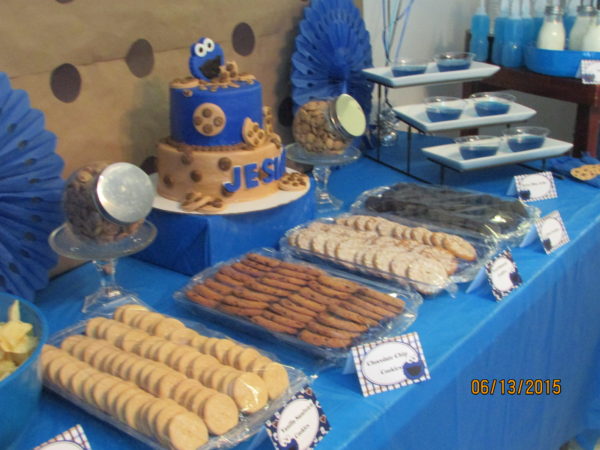 Jesiah's cake made custom by Shanell. She makes the most outstanding cakes!
Used a sturdy box and covered with blue wrapping paper (am sure from Dollar Tree) to give the cake some height. This gives the eye more interest to the eye.
Etsy makes party decorating a breeze as well! These food tent menu cards are great for identifying all of the food.
Food
To save on the cost, kid-friendly, and easy to prepare foods. Hotdogs, hamburgers, chicken nuggets, fries, and baked beans were the best option. Placing them all on in these Dollar Tree aluminum pans on warming servers kept the food good and hot.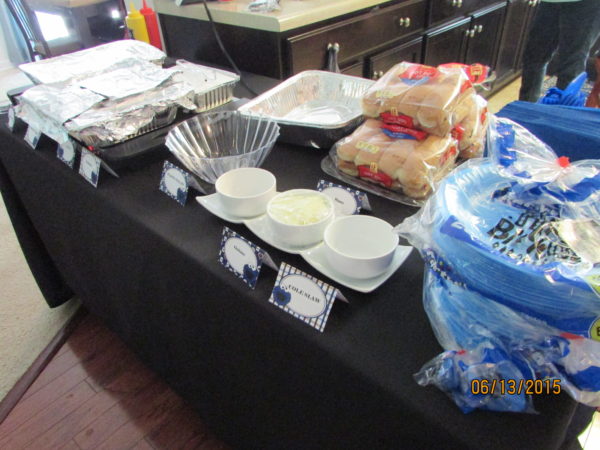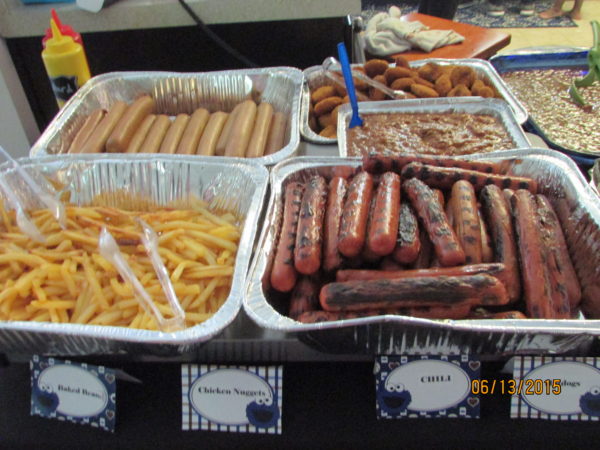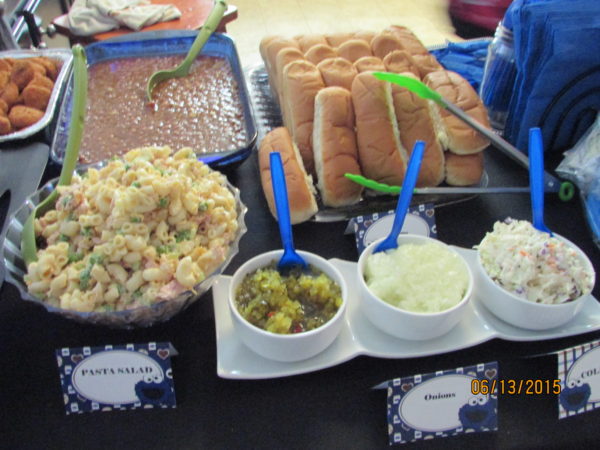 Drinks
We had several drink options: Water, blue raspberry Koolaid (Mix and Jammers) and of course Milk. We had to have milk to go along with the cookies. Finding these cute milk bottles from Five Below were perfect to add to his Cookie Monster theme birthday party.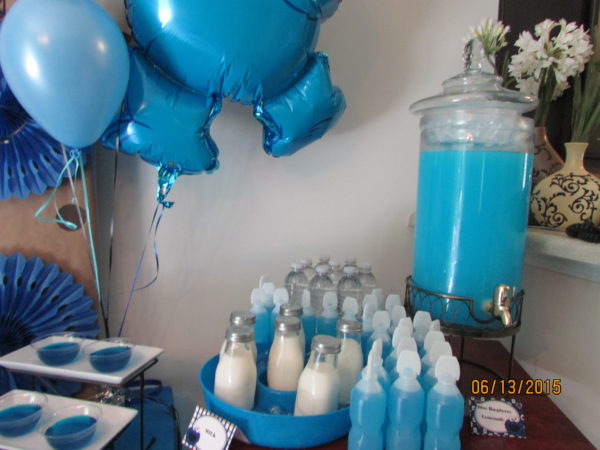 One of the party's favorites was this ice cream cookie mixture that I found on Pinterest. I was the talk of the party! I have to make this again…totally forgot about it!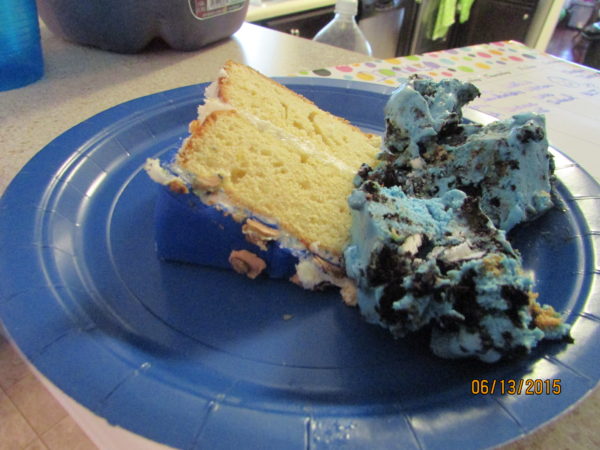 Fun
It was a hot day, so I thought it would be great for the little ones to enjoy a slip and slide and kiddie pool. If your child is older games would be great to do for added fun.
I purchased bags, coloring books, crayons, bubbles, and other fun toys from the Dollar Tree as party favors. So many to choose from it tough to just pick a few items.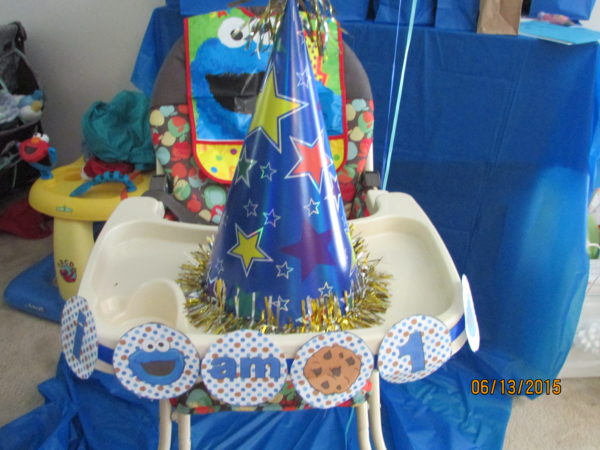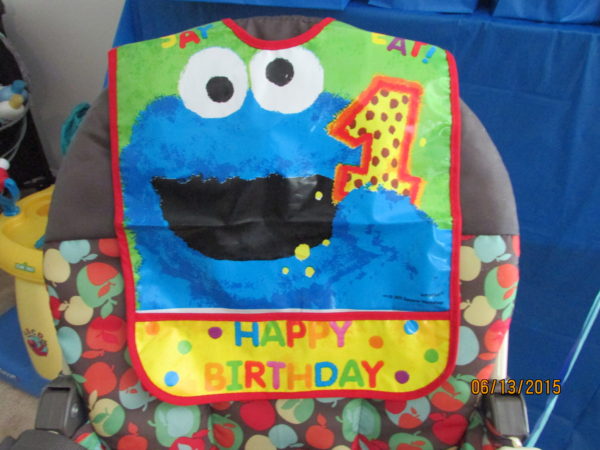 Jesiah's 1st birthday was really fun to put together. The DIYs, custom decorations from Etsy and cake. Making sure that I stretch my budget by shopping at Dollar Tree. And spending time with family and friends made the day all the more memorable. Memories for a lifetime!