Budget Rustic Wedding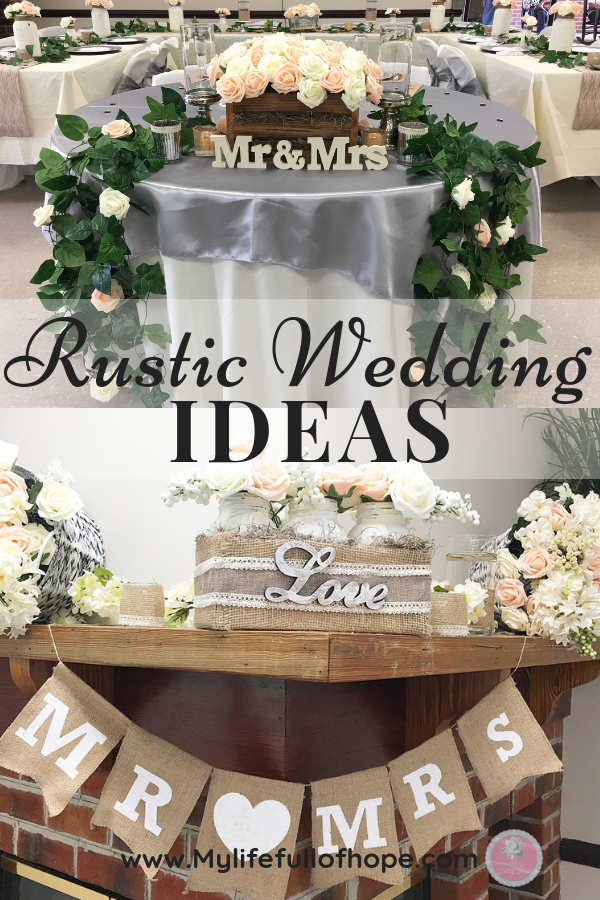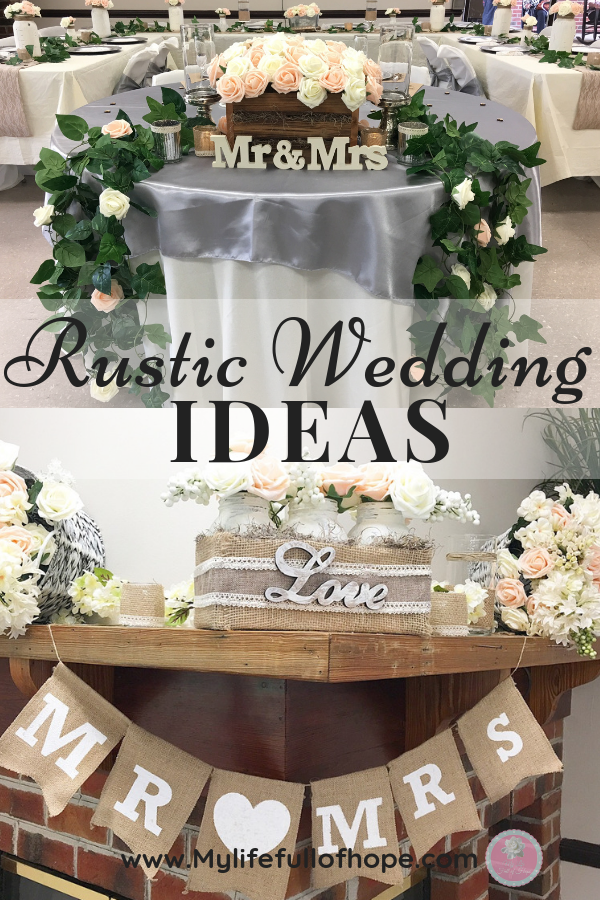 Budget Rustic Wedding | Decor
Creating a special day for a wedding does not have to expensive and break the bank. With a little planning, help of friends and family you can have customized, cost-efficient wedding that your heart desires. Let me share some of the ideas and tips that we did to help carry out the brides and family wishes on their special day.
CANDY BAR
To start off, every wedding should consider a candy bar and this one was very affordable and budget-friendly. I created this bar at the very last minute. Having all of the glass vases and candlestick holders from Dollar Tree on hand from previous celebrations. I made this really helpful and saved lots of time.
SIGNUP FOR ALL ACCESS TO MY FREE PRINTABLE LIBRARY AND
GRAB A BRIDAL SHOWER PLANNING CHECKLIST FOR FREE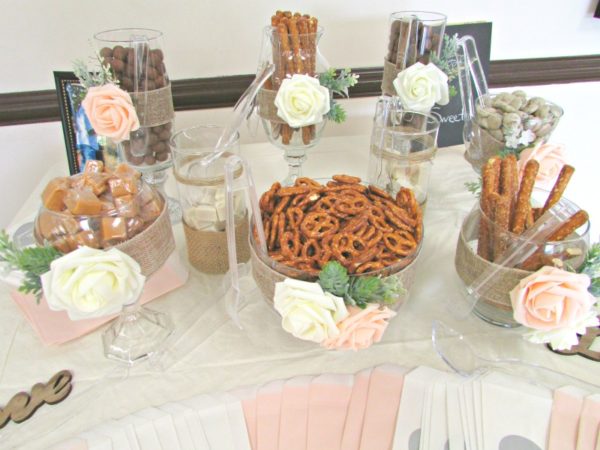 Faith (and I did the wedding as a collaboration) already had the candy on hand as well because it was a request from the bride. She went with brown and ivory (natural color) candies to coordinate with the wedding. Faith liked adding the pretzels to give the bar that woodland look. I thought it was great, out of the box idea.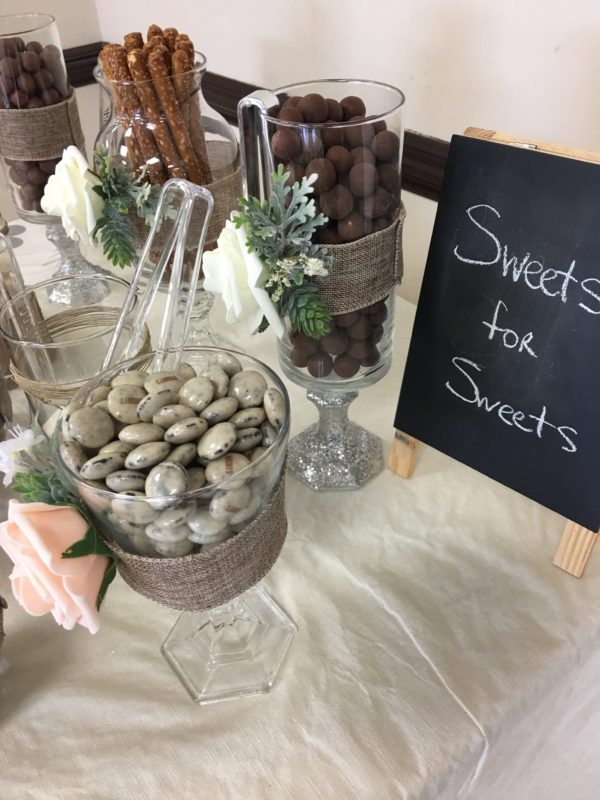 *This post contains affiliate links, which means it helps my channel and family out, at no extra cost to you, if you make a purchase using this link.
Added burlap ribbon (from Dollar Tree) and the flowers that we used throughout the wedding to add decorations to the candy jars. I have a DIY video on how I created the candy jars for the bar (click here).
Customizing your bar area can be done by adding pictures of the bride and groom. Also adding their favorite candies to the candy bar.
Their wedding cake table was kept simple with just the cake, plates, cutlery and napkins.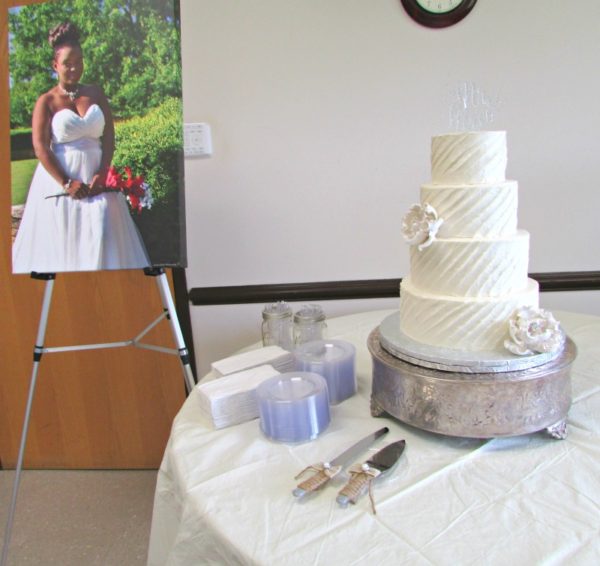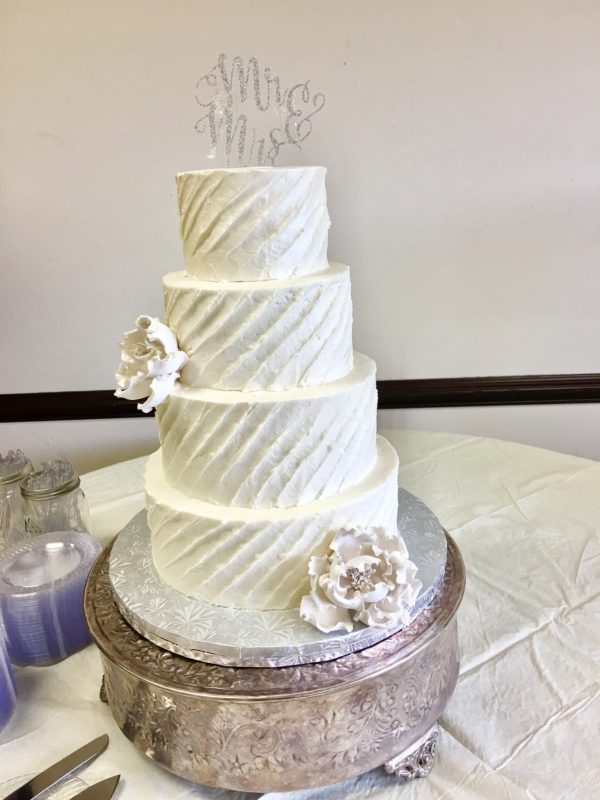 The picture photo backdrop was purchased from Oriental Trading and I added a floor flower arrangement that I had personally in my home as decor. I knew that it was work in the decor of the wedding because I also had a rustic chic look in my home.
GUEST TABLES
All of the tables had a premium paper tablecloths (to cut the cost of expense) and burlap runners that were purchased from Walmart. Wood chargers were added to the center of the table with a mason jar and lantern. To embellish the table a bit more pearls (extra I had on hand and greenery garland (Dollar Tree) were ordered in bulk. What a really good convenience to order items from in bulk from Dollar Tree when you in need of them for a party or event. Faith also created table numbers for each table with your Circuit.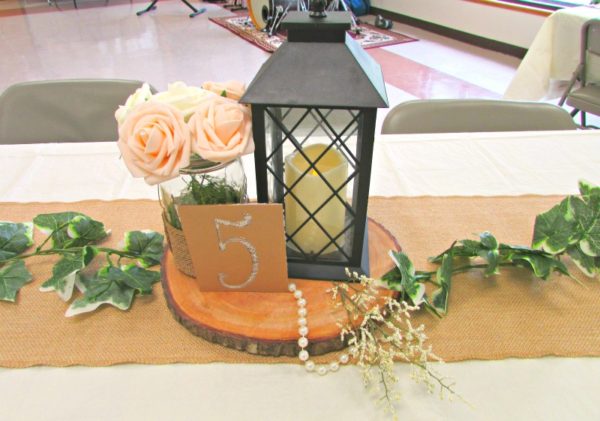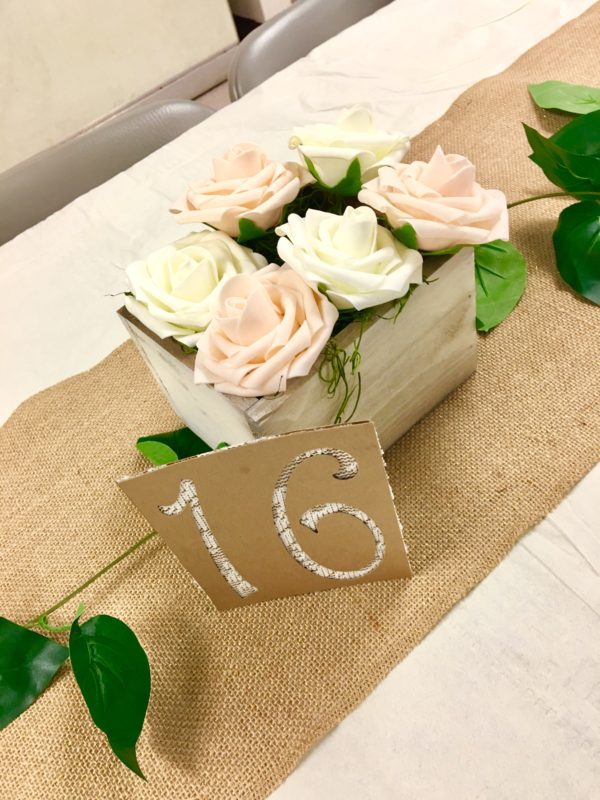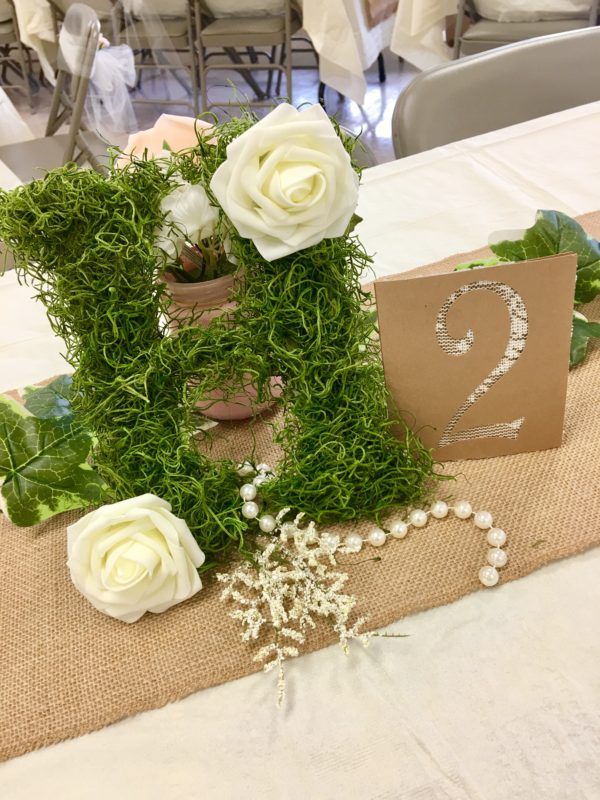 BRIDE & GROOM TABLE
Their table linens were from Tableclothsfactory.com and they went with Ivory and Silver tablecloths, overlays, runners, chair covers and sashes. The Mr. & Mrs. ivory wooden letters were purchased from Amazon for a wonderful price.
The focal point for the bride and groom table was a wooden crate that I pulled from my home and added some of the leftover roses that were used for the brides and bridesmaids bouquet. We had some extra greenery that was placed on each table and I used it to drape it along the sides of the table.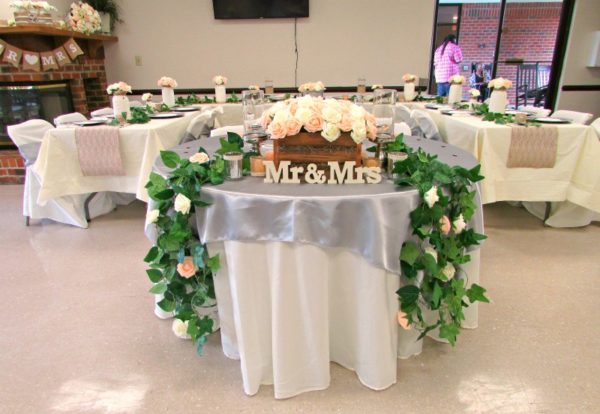 Normally there is a circular loop at the end of the greenery. I gathered an equal amount to distribute on both sides of the crate and used floral wire to attach them together. I placed the gathered end attached by floral wire underneath the crate. Then adding more roses throughout the greenery.
What a great last-minute idea! My favorite decor portion of the wedding.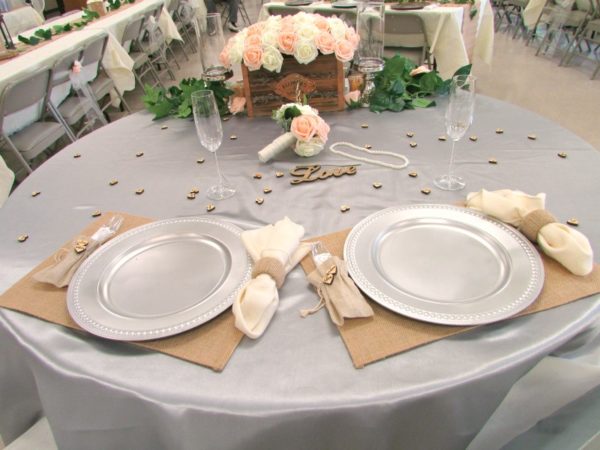 The Mother of the Groom purchased wine goblets for them. I purchase some wooden hearts table scatter from Amazon. Most of the tableware was already items that I had on hand. Creating this look is very simple. Heading to your local Dollar Tree for chargers, white plates, and stemware. Ordering online is a great option for purchasing items in bulk and to save on time.
Bridal Party Tables
While visiting the venue we knew just about how many tables were needed. They gave me the count for how many centerpieces that were needed for each table.
Although I should have measured or literally placed that tables how we wanted them arranged beforehand. This left me having to be creative on the day. Looking back on the situation, the tables may have been locked in another room and/or we were limited on the guy strength to bring out the tables for use when we just visited the venue.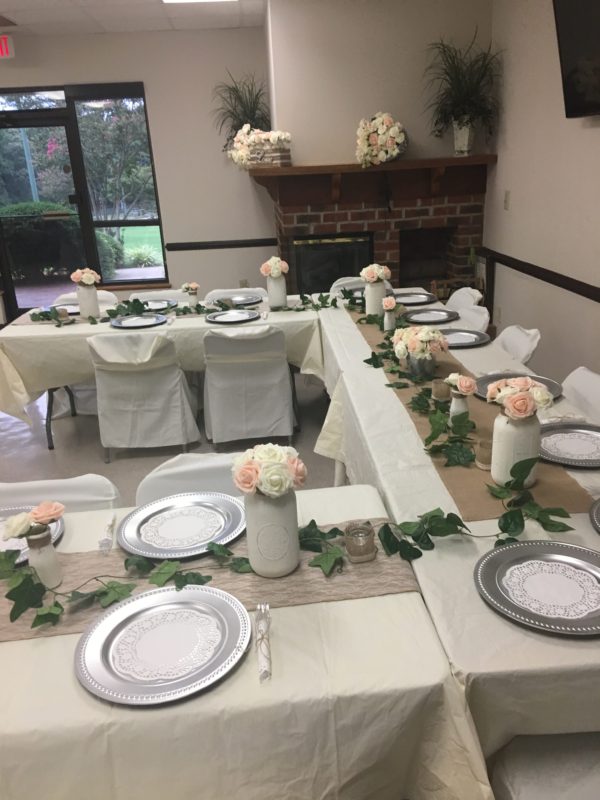 It worked out in the end! Now I have learned to check, check and double-check.
Everyone with the bridal party had a seat. At the ends of the tables, I placed a large mason jar (from Walmart) that I created this simple DIY with chalk paint and sandpaper. Wrapped some burlap twine around the top part of the jar and added some roses. Laced, burlap runner (from Walmart) placed on each table.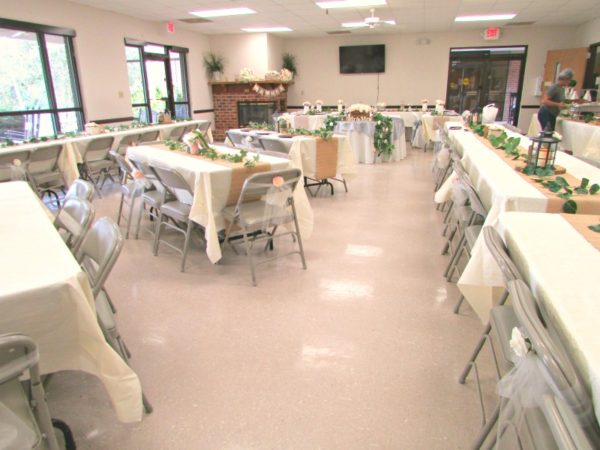 Fire Place Mantle
This wedding was a collaboration with my ideas and Faith ideas (especially the Brides and the family's wishes). The mantle decoration was my responsibility. I used baskets that were in my Master bedroom that I no longer needed and lightly brushed them with a coat of chalk paint. Then add more of the extra roses inside of the baskets with a mixture of a few floral pieces that were once from an old flower arrangement.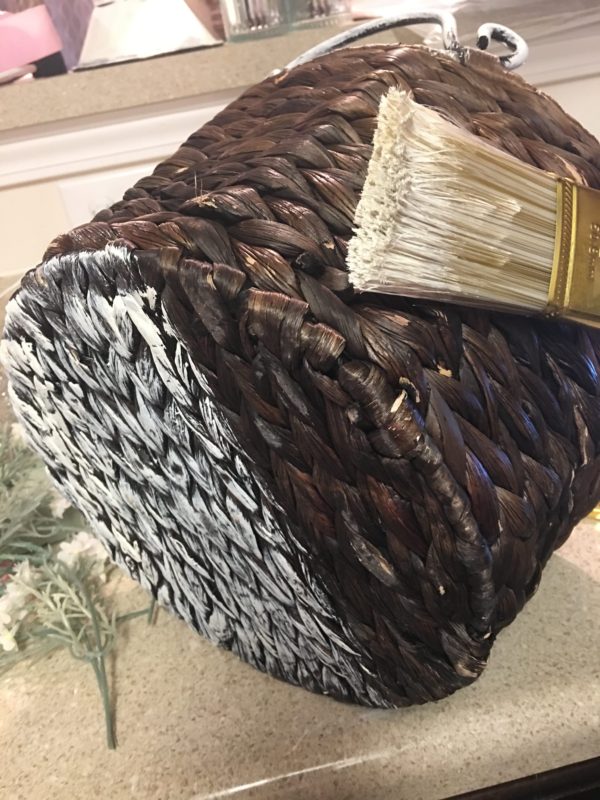 *This post contains affiliate links, which means it helps my channel and family out, at no extra cost to you, if you make a purchase using this link.
Also bringing two large greenery arrangements from home. Knowing they would work great on the mantle to tie in everything together.
The main focal point of the mantle was a small but show worthy DIY of a shoebox covered with burlap. The DIY centerpiece, embellished with the words LOVE, lace, and ribbon. Adding within the box rustic mason jars; topped with roses and white berries.
Draped in the center was a Mr. and Mrs. burlap banner from Amazon.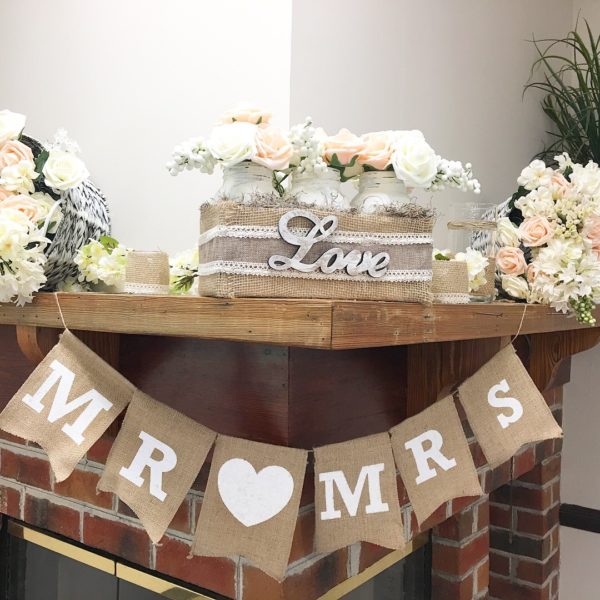 FAVOR and Gift Table
The favor and the gift table carried out two functions. Although we really needed two separate tables we made it work together in the end.
On one side of the round table, we favor bubbles, mints and little baggies of chocolate kisses. Adding a few decor items to continue out the theme of the wedding. Also a picture of the Bride & Grooms engagement photos.
A custom card box and guest signing book created by Faith.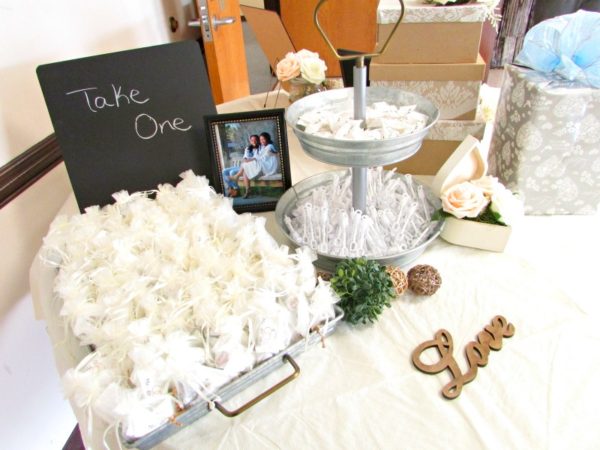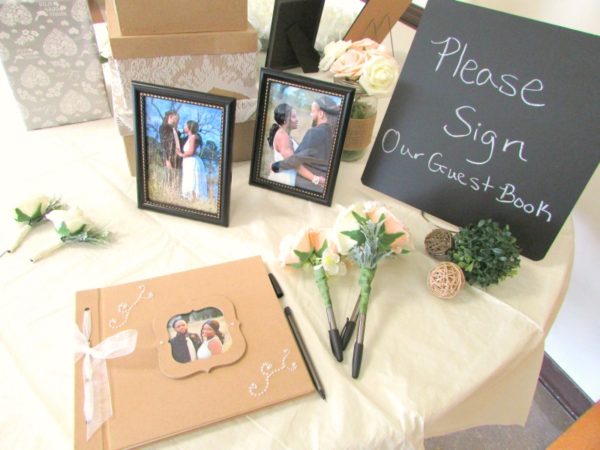 Food
All of the food prepared and catered by the Bride and Grooms family. That was truly a blessing to have help and talents all within their family.
Some of the items on the menu were: Tuna salad, chicken wings, pasta salad, veggie tray, fruit salad and more.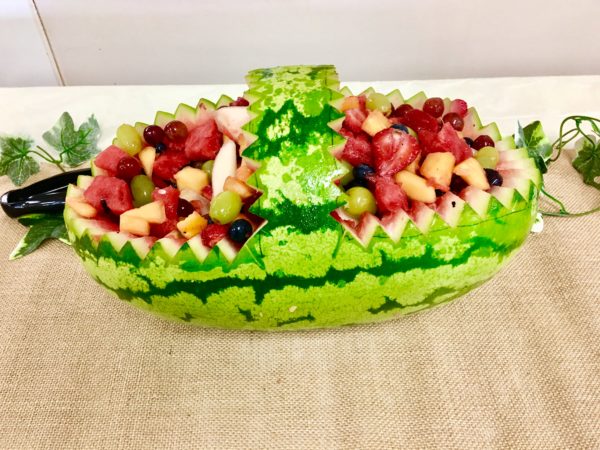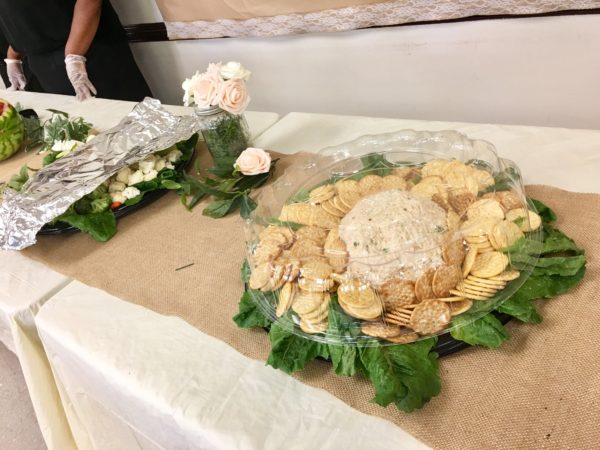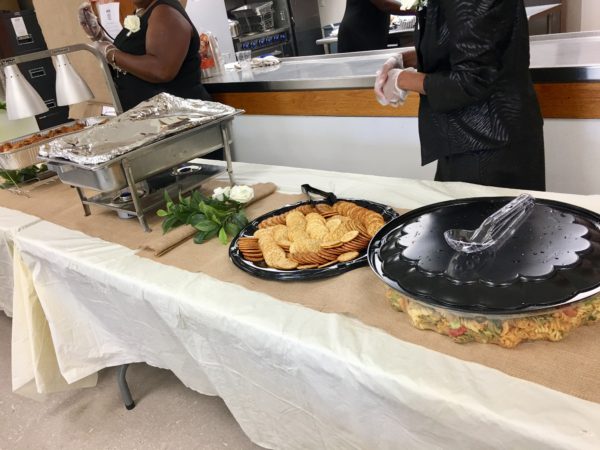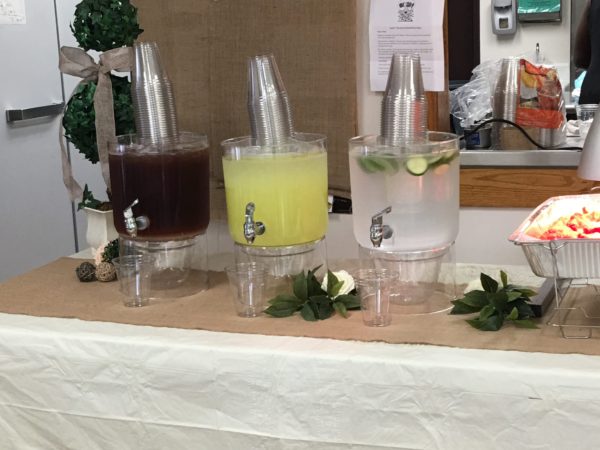 Music
Music is a big part of their family. So the Groom's little brother was the DJ of the wedding (which he does full-time). And they also had friends that came to play the drums and etc. on their special day of celebration.
How neat?!?!
Bridal Party's Flowers
Most of the flowers were purchased from Amazon. I had to be creative with creating these flowers because of the slender stems and this was the first time working with them.
As a result, it turned out to be beautiful. I created a video on the bride's, bridesmaids bouquet, parents flowers, hostess and boutonnieres. You can check them out below.
Everything came out wonderful! Especially for myself hitting the ground running within 3 weeks. What an amazing couple and experience. I learned some valuable lessons in this process for example by asking for help when you need it and you can read the rest here.
With a little brainstorming and creativity, you can bring the wedding of your dreams to reality on a budget. Don't be afraid just START!
PIN IT FOR LATER >>>>